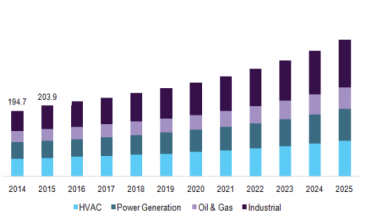 Cooling towers Market Overview:
A cooling tower is a heat exchanger which allows water and air come into direct contact in order to reduce the waters temperature. A small amount of water is evaporated by reducing the temperature of the water being circulated through towers. The global cooling market is $2037.8M in 2017 and is estimated to grow at a CAGR of 4.84% during 2018-2023. Europe region held the major share of 34%. Cooling towers are the most important part of many industrial plants which is driving the growth of the Cooling Towers Market.
Cooling towers Market Outlook:
Cooling towers basic task of a cooling tower is to reject heat into the atmosphere. These are relatively inexpensive and dependable means of removing low-grade heat from cooling water. Cooling towers are most widely used to remove excess heat that is generated and is used to represent a relatively dependable and inexpensive means of removing low-grade heat from cooling towers. Cooling towers are segmented basing on the type of cooling towers as natural draft, Mechanical draft, Cross towers, counterflow towers and others. It is further segmented based on the construction of cooling towers as Factory assembled cooling towers and Field erected towers. Cooling towers are used in various industries like Chemical and petrochemical industries, plastic manufacturing and packing industries and others.
Cooling towers Market Growth drivers:
An important growth driver for cooling towers is its introduction in various industries. Cooling towers started using as energy efficient systems, as water cooled systems as they offer lower energy use than air cooled alternatives as Most of the industries started using Cooling towers as it rejects to process heat into atmosphere. Cooling towers are further used in food processing plants, petroleum refineries, natural gas plants and others as cooling towers are designed for cooling the circulating water during the manufacturing process which is further driving the market. It has this great advantage of Cooling towers is that it prevents the overheating of the other machines so companies expenses will get reduced and machines will get proper power supply to deliver break free performance.